Baseball/Softball
The Rossford Dome welcomes Zach Willeman! Get an edge on your opponents and learn from Zach.
Meet Zach Willeman
Selected by the LA Dodgers in 19th round of MLB draft
Letterwinner at Kent State 2015, 2016, 2017
2017 MAC Distinguished Scholar Athlete
Broke single season ERA (.0653) and strikeout (121) record
Also holds single season strikeout record in a single game of 15
Last season played Double A with the Tulsa Drillers of the Los Angeles Dodgers organization as a main relief pitcher with an ERA of 3.78 and 59 strikeouts in 47.2 innings pitched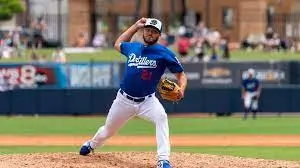 We are pleased to bring Zach on board for private and group lessons.
One hour lessons
Personal training: $80
2 players: $120
4 players: $200
6 players: $220
Lesson Packages for 6 weeks. Once/week
Personal: $360 ($60/lesson)
2 players: $540 ($45/lesson/player)
4 players: $840 ($35/lesson/player)
6 players: $1080 ($30/lesson/player)

Team packages also available.
For more Information or to schedule a training session, please contact Zach at 419-966-0463 or the office at 419-893-5425.
Now offering Baseball/Softball Training at both our Maumee and Rossford locations!
Maumee Offering:
Two Batting Cages - 1 adjustable pitching machine, and one soft toss area to practice proper technique
Rate: $30/hr per cage
We are happy to announce our Car Stereo One Field has been adjusted to offer Baseball/Softball training.
Reserve Cages and Small Field for $115 per hour, Save $20.00!
Call 419-893-5425 to make your reservation.
Rossford Offering
Two Batting Cages – 70' x 14'
Rate: $30/hr per cage
Add pitching machine for $10/hr
Add HitTrax for $20/hr
Reserve our Training Field and 2 cages for just $150.00 per hour, saving $25.00!
Call 567-331-8432 to make your reservation.
Whether looking for individual training, or an entire team, we can accommodate your needs. We are open daily 10am to 10pm.
What is HitTrax?
HitTrax is the first and only baseball/softball simulator. The technology delivers innovation to baseball players and coaches by measuring real-time hits and displays live results with helpful statistics.
Coming this fall, HitTrax Leagues
These leagues allows players to get more at bats in a game like situation in a competitive environment. Teams 8U-14U can have 4-6 players. Games are simulated in MLB Stadiums and scaled based on the age and skill of the players. Games are 6 innings or 30 minutes. Leagues standings and individual statistics are kept for all teams. Prizes for leagues winners.
Tball
This is a great introduction to baseball for youth ages 4-6yrs. This league will begin in Feb. and run 6 weeks thru March on Sunday afternoons. Teams will also be provided with a couple practice sessions. All games will be played in Maumee at the Soccer Centre on the Car Stereo One Field. Get on the same team as your friend! If your willing to coach, please call 419-893-5425.